Casey Family - Revolutionary War Service
Levi Casey (6th son of Abner Casey):
Levi Casey was Brigadier General of South Carolina who died at age 59, year of 1807 in Washington City (Known now as D.C.) Early in the Revolutionary War, he received command of a company with which he gallantly assisted at the siege of Savannah. He was later a distinguished officer at the Battles of Rocky Mount, Hanging Rock, Musgroves, King's Mountain, Fishdanford, Blackstocks and at Cowpens. At the Battle of Cowpens, Levi performed important services to General Morgan. Levi Casey participated in a campaign into Georgia and Florida. He first served in Captain Thomas Dugan's Company under the command of Colonel James Williams. Colonel Williams was killed and replaced by Colonel Joseph Hayes. Levi served as Captain and later Lieutenant Colonel. After Hayes was killed by Tories, Levi Casey was promoted to Colonel and took command of Colonel Haye's Regiment - then known as the Little River Regiment. Levi Casey was Justice of the peace, Justice of Quorum, County Court Judge, Commissioner and U.S. Senator (1800 - 1803) from the 96th District, Spartanburg, South Carolina. He also was Tax Collector (1786), served in the State House of Representatives as representative of Little River (1786 - 1788). Levi was representative for Newberry County in the State House (1792-1796).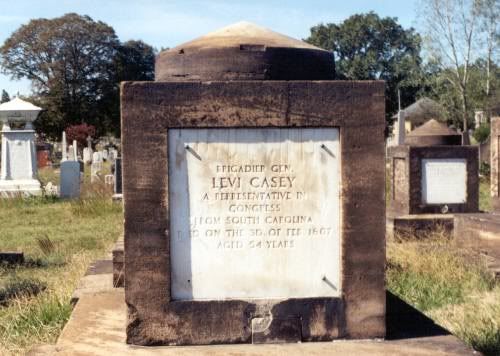 John Casey (Son of Abner Casey):
Moved from Roanoke, Virginia to South Carolina circa 1775. He settled on the Enoree River, Newberry County. John served in the Revolutionary War. (no details of his service have been found yet) According to our research, he is the Great-Grandfather of Samuel Clemens (Mark Twain).
James Casey (Son of Abner Casey):
James lived with his wife, Nancy , and four sons in Spartanburg County, South Carolina - District 96. James, as his brothers did, served in the Revolutionary War.
Christopher Casey (Son of Abner Casey):
He entered the Revolutionary War shortly after the fall of Charleston to the British (May 1780). Christopher entered service as a Private under Colonel John Thomas and Colonel Cecil's command. Next, he served as a Lieutenant in command of a post at Calleo Harrison's Cabin for Colonel Beard. His third tour of duty was under Peter Brooks in Colonel John Thomas' regiment which was commanded by General Pickens. In this expedition he served as Lieutenant and Marched to Orangeburg, where they 'routed some tories'... Still under Captain Brooks, he marched to Bacon's Ridge where General Pickens rendezvoused for the purpose of assisting General Green. Christopher Casey served in Colonel Roebuck's regiment as Lieutenant and had command of a small detachment to Augusta for salt. He also served in Captain Ford's Company of Colonel Kiljours Regiment during the siege of '96'. Christopher Casey lived in an area sometimes known as the "Spartanburg District".
Moses Casey (Son of Abner):
Moses Casey lived in Spartanburg, South Carolina with three sons and five daughters in the 1770's. (1)He was a Captain in the Revolutionary War. No details of his service are available. In 1784, Moses bought 100 acres from his brother Christopher Casey (Sr.), said to be part of 250 acres lying along land claimed by his brother, James Casey. In 1787, Moses Casey bought 50 acres from (2)Jesse and Mary Casey (our ancestor). These 300 acres were in what was known then as Berkeley County, South Carolina, but today this area is in Spartanburg County.
Benjamin Casey (Son of Abner Casey):
Randolph and Levi Casey had a brother, (3)Benjamin. Randolph and Levi were in the 2nd Carolina Regiment under the command of Colonel Elijah Clark.
Jesse Casey (Son of Abner Casey):
(4)Jesse is listed with a wife, 4 sons, and 3 daughters in a survey made in the 96th District of South Carolina when he had 100 acres surveyed on the branches of Two Mile Creek, waters of the Enoree River. He is recorded as buying and selling several pieces of land, as being a slaveholder, and having other properties in District 96, Spartanburg County. In the late 1700's, Jesse moved to Tennessee where he is buried in Roane County. He is believed to have served in the Revolutionary War while living in District 96, South Carolina.
Aaron Casey (Son of Jesse Casey):
(5)Aaron Casey served in (6)Roebuck's Regiment after the fall of Charleston. He served for three years.
Randolph Casey (Son of Abner):
Randolph Casey served as Sergeant under Francis Marion - the famed "Swamp Fox of the Santee". He was at the Battle of King's Mountain and many other battles throughout the Carolinas and Georgia.
Zaddock Casey (Son of Randolph Casey):
As Governor of Illinois (1833), he often spoke of his father's (Randolph) Revolutionary War days.
Jesse E. Casey (Son of Aaron Casey):
Born 1799, Spartanburg County, South Carolina. (7)Jesse's father was of Irish descent and served through the Revolutionary War.