Gee wonder why?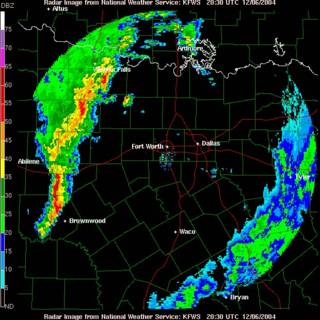 From
NWS
. The county to the north of Dallas and Ft Worth with the inverted "Y" (actually being I 35 W and E) is where we are.
* Severe Weather Outlook update*
DAY ONE...A SQUALL LINE WILL MOVE ACROSS AREAS WEST OF INTERSTATE 35 THROUGH500 PM CST...WITH THE THREAT ALONG AND EAST OF INTERSTATE 35 BETWEEN500 PM CST THROUGH 800 PM CST. THE MAIN SEVERE WEATHER THREATS WILLBE DAMAGING WINDS TO 60 MPH WITH EMBEDDED BOWING SEGMENTS...ALONGWITH LOCALIZED SEVERE HAIL TO THE SIZE OF NICKELS. AN ISOLATEDTORNADO CAN'T BE RULED OUT AS THE LINE OF STORMS MOVES INTO AN AREAOF BETTER LOW LEVEL MOISTURE AND STRONG WIND SHEAR ALONG AND EAST OFINTERSTATE 35. THE LINE OF STORMS IS EXPECTED TO AFFECT METRO AREASOF DALLAS-FORT WORTH AND WACO IN TIME FOR THE EVENING RUSH HOUR. THIS ACTIVITY IS ALL DUE TO A VIGOROUS LOW PRESSURE SYSTEM ANDPACIFIC COLD MOVING TOWARDS THE AREA FROM WEST TEXAS. THUNDERSTORMSARE EXPECTED TO MOVE OUT OF NORTH TEXAS BY MID EVENING...WITH GUSTYSOUTHWEST WINDS OF 10 TO 20 MPH BEHIND THE FRONT.